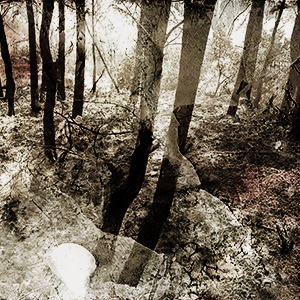 Small Things on Sundays
"Searching for"
Skrat Records skr-011
The Copenhagen based duo Small Things on Sundays are proud to present their first LP, "Searching For", which will be released on 19. January 2013. It is the seventh album release by the duo – but the first to be available on vinyl.
From the beginning, the idea of Small Things on Sundays has been to use treated vinyl as the main sound source to create a trademark sound. Focusing on the accidental and unexpected sounds of the medium, when processed in a different way than originally intended. This idea is still very strongly inhabited in the Small Things on Sundays sound. Through the years of their existence, the duo has incorporated other instruments and sound sources as well to broaden their sound-pallet.
Small Things on Sundays have existed since 2006, and have done releases in the underground circuit in countries like UK, Italy, Germany and the Netherlands. "Searching For" is part three of the trilogy which started with "4 AM" (Moving Furniture 2010) and "More" (Striate Cortex 2010), and is the lightest and most accessible of the three. Henrik Bagner and Claus Poulsen are obviously huge vinyl fans, and are also active in other musical projects, like On the Wrong Planet, Star Turbine and Audionauts.
Reviews from Steven Cammack at muhmur.blogspot.co.uk
"…..The final piece is one of the finest pieces I have heard for a long time. "Two Instruments". Fast strings meet slow strings. Very clever. It builds like a jigsaw…a soundtrack to an awakening, a shamanistic ritual, realisation. A track that makes me want to turn the record over and start all over again. Brilliant. "
Available from Drone Records and Norman Records