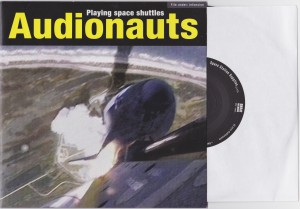 Audionauts
"Playing Space Shuttles"
7″ vinyl single released 25. april 2013
Skrat Records skr-009
Reflecting mankind's largest constructive burst of energy and celebrating our urge to gain knowledge. recorded live improvisations to real-time feed from NASA. Edited by Claus Poulsen, mastered by Yann Coppier, cut by DJ Hvad at Kommunal Dubplate Service, cover by Helvildt.
Audionauts side A: Børup, Coppier, Mortensen, Paluszewski, Poulsen, Raagaard
Audionauts side B: Børup, Paluszewski, Poulsen, Propel, Raagaard