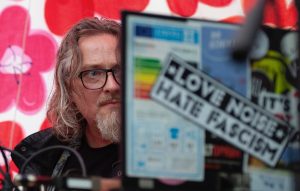 Claus Poulsen (b. 1968) is an improvising musician and producer living in Copenhagen, Denmark, who has been a part of the electronic and experimental scene since 1995, when he formed the noise-ensemble Alarm112. CP has continued with a number of projects since then, making solo performances and releases a priority in the last few years.
The name of the game is free improvisation, experimentation and artistic challenge. CP plays both non-instruments (amplified objects, dictaphone, turntable, bonsai tree), instruments (string instruments, keyboards, percussion) and electronics (laptop, effects, synthesizer).
In recent years, CP has focused on playing cymbals with bows, deveoping etended techniques.
A versatile improviser, his music projects span across genres such as ambient, noise, freejazz (Blind Man's Band) and drone / soundscape (solo and CAM trio).
CP is highly active releasing cassettes, CDs and vinyl (on labels such as Insula Jazz, Soundholes, Invisible City, Chocolate Monk, Metaphysical Circuits, Dokuro and Sonic Meditations) and tours frequently in Denmark and Europe.
Bandcamp
Discogs
Facebook
Soundcloud
contact: claus@menneske.dk