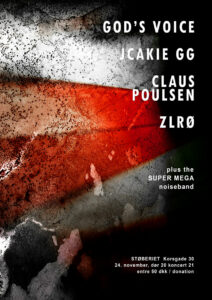 En dynamisk aften med svært-at-beskrive-musik fra holdet der arrangerede SUPER MEGA JAZZ tidligere i år. Denne gang træder de fire musikere frem solo, skarpt efterfulgt af aftenens overraskelse, the SUPER MEGA noiseband.
Støberiet Korsgade 30, 2200 KBH N
Døre 20, koncert 21.
Entré: 50 kr / donation
GOD'S VOICE
vegan straight edge music from heaven
ZLRØ
ZLRØ produces vibrations they enjoy to throw in the air with the grace of a lullaby; their main sonic source are little pieces of moquette collected from the hall of an abandoned hotel on the west coast of Scambicci, scrambled together aiming to a result of plastic beauty they enjoy to feel everywhere through their body, till tickling under their nails dirty of soil from the early morning digging.